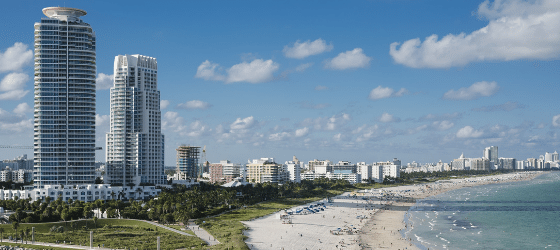 03 Sep

Precast Concrete: Building safe and sustainable Cities

The precast concrete  trend is evolving almost at the same pace as the challenges it faces. As a consequence of climate change, urban planning is becoming more and more challenging. The necessity to build safe and sustainable cities is more and more prevalent.

The truth is, measures against climate change are still an unfinished task. While progress had been made with the latest agreements at the Paris Summit, COVID19 has changed everything. However, the data and evidence are still there, increasingly worrying the scientific community and ecologists.

According to a United Nations (UN) report: " The oceans have warmed, the amount of snow and ice has decreased and the sea level has risen. From 1901 to 2010 the average world sea level has risen by 19 cm, as the oceans have expanded due to melting ice as a result of warming".

Facts have not improved in the last decade. The effects of climate change will persist for many centuries, as all forecasts indicate.


We are currently suffering from most of them: thawing, extreme temperatures, very strong hurricanes and new atmospheric phenomena. Although it may seem that its damage is not evenly distributed, the truth is that globalization has led to global consequences. 

Therefore, all efforts must focus on preparing today's societies to face and overcome the challenges ahead. Territorial planning must be strategic and future-oriented, not based on the present.


The use of new tools, materials and construction methods such as the BIM, are key to the urban development of modern cities. Against the climate change, the precast concrete  is postulated as the best ally. Its versatility and resistance allows the development of safe and sustainable cities.

NEW ATMOSPHERIC PHENOMENA: LA NIÑA
The study of the atmosphere has allowed us to better understand how it works and predict phenomena to act accordingly. Thanks to this, we know when a hurricane will form or if La Niña  will appear this fall a year in advance.
The World Meteorological Organization  (WMO) indicated that this year 2020: "There is a 60% probability that a La Niña phenomenon will develop between September and November". 
But what is this phenomenon? And how does it affect us? La Niña  is fluctuations in the surface temperature of the Pacific Ocean and changes in its different atmospheric circulation layers. Although climate change is not the cause, it is a decisive factor.

This phenomenon occurs when there is an interaction between the Pacific and the atmosphere directly above it. Its consequences are felt all over the world: it contributes to the formation of strong tropical cyclones and hurricanes in America. It is also associated with heavy rainfall periods in Europe.

Being able to predict these phenomena in advance allows us to prepare infrastructures, resources and, in general, the population to know how to face them. 
The best example of this can be found in the State of Florida. Since 2002, construction policies have been very strict due to the devastating Hurricane Andrew. Locations like Miami-Dade  have the most strict U.S. building regulations, recognized worldwide.

To give you an idea, the new buildings must withstand winds of 260 km/h. In fact, the closer they are to the Gulf of Mexico, the more resistant they have to be. In order to verify their effectiveness, they must pass tests that guarantee their hardness. This is the only way to avoid having to rebuild entire cities every year.
But how can a house or a building resist such strong winds? At Glassydur  we have the answer: thanks to precast concrete.

Did you know that we have been granted the Miami-Dade Certification? Thanks to this, our precast fiberglass concrete can be used for projects with high resistance requirements. This has been ruled by the Miami-Dade team of experts.

HURRICANE-RESISTANT PRECAST CONCRETE
Concrete  has always been characterized by a special quality: resistance. Since it was first introduced into the construction sector, it was used to build dams, bridges or tunnels.

Buildings that are supposed to be very resistant to support a constant and heavy weight. As a result of continuous innovation, precast concrete  is no longer only the most resistant but also the most versatile material on the market. These qualities are allowing us to advance in the development of Smart  Cities  or  environmentally sustainable spaces.
It is therefore not surprising that it has become an important ally against climate change and its consequences. The one that causes the most damage? Hurricanes. In the United States alone, economic losses  exceeded $100 million with Katrina, according to the National Hurricane Center. 

Although hurricanes do not happen because of climate change, their patterns have been affected by it: frequency, intensity and recurrence

If temperatures increase due to global warming, there is more water and thawing. As a result, the water is warmer and this leads to torrential rains and severe flooding. A warm ocean is fuel for hurricanes.

The Center for Climate and Energy Solutions  (C2ES) reports that precipitation rates are expected to increase by 20% during tropical storms and this, «as demonstrated by Hurricane Harvey in 2017, can sometimes have the most destructive impact».
In view of these data, precast concrete  is making progress in the most vulnerable cities. It resists to hurricanes and their associated effects: torrential rains, strong winds and rising sea levels

In Europe we have not yet suffered its ravages. However, experts are warning that, with climate change, this situation could change, resulting in "medicanes". Hurricanes lasting between 12 and 18 hours, which usually do not exceed 100 Km/h.

In view of these forecasts, Glassydur offers a hurricane resistant precast concrete. A construction material from the present for the challenges of the future

FUTURE CHALLENGES FOR URBAN PLANNERS AND ARCHITECTS

Developing safe and well-equipped cities is a challenge that climate change has put on the table. According to data from the United Nations (UN), 70% of the world's population will reside in cities in 2050.

At the present time, the data are not far from this reality of the future. This is why urban planners and architects are seeking new methodologies and the best building materials

The idea around which current urban policies revolve is "learning from mistakes and successes"

 "There are things that cannot be replicated, for example one is not to follow the same path of what has been developed, not to depend on the same cycles or policies that have been based on previous policies," explained Ilan Cuperstein Deputy Regional Director Latin America of  C40.
Given this reality, there are organizations such as C40, an entity that groups 96 cities worldwide that have the same objective: to mitigate the effects of climate change through different programs.

Together, the leaders of major metropolises are taking bold actions regarding climate, leading the way to a healthier and more sustainable future

Madrid and Barcelona  are the two representatives of Spain in this extensive list that covers the 5 continents.

They all work in different sectors such as energy, waste, adaptation and transport. The goal? To build cities that are safe and sustainable in the face of the effects of climate change with the use of precast concrete.