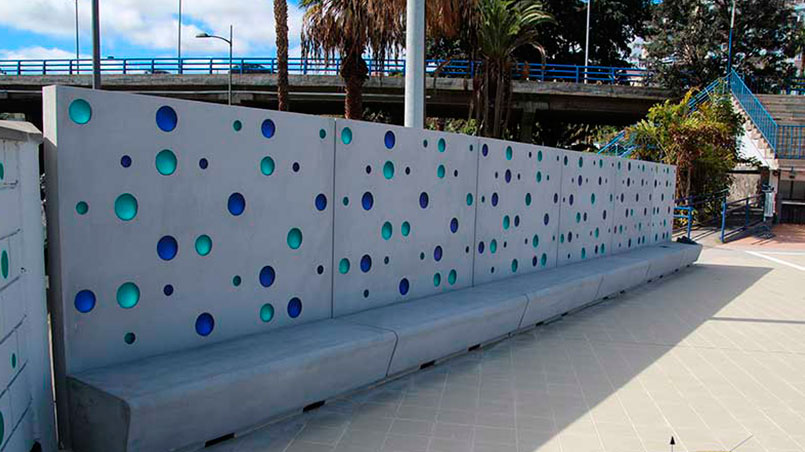 04 May

Glassydur walls and benches for swimming pools in Santa Cruz de Tenerife

The sports complex including the Municipal Swimming Pool Acidalio Lorenzo in Santa Cruz de Tenerife is one of the best known and oldest in this city. It is a benchmark as a public space, since it is located right at the crossroads of two of the main accesses to the center of the city of Santa Cruz: Tres de Mayo Avenue and Las Ramblas.

Given the importance of its location, Antonio Afonso group wanted to give the design of the Glassydur perimeter wall a special touch so that it is displayed as a decorative, almost sculptural element, capable of becoming the protagonist of the swimming pool area. For this reason, it was thought that a good solution would be to propose a wall-bench capable of solving, at the same time, the need for enclosure and of providing a seat along the entire length of the wall, without losing sight of the ergonomics of a pattern, which must fit the human shape with functionality. To facilitate the execution and subsequent placement of the wall, it was manufactured at Glassydur's, since it is a lightweight material that has certain characteristics such as being a thermal and acoustic insulator with exceptional durability and stability They were manufactured in equal sections, each of them composed in turn by a bench and a wall section that would be anchored at the rear. Then, all these parts would be assembled with each other once they were placed in their final place, as if it were a product presented to the customer as a mounting kit.

As far as design is concerned, aesthetically speaking, the wall has a distinctive feature; panels that will make it possible to identify the design with the pool complex seen from the outside. For this reason, it was decided to pierce the wall with "bubbles" of different diameters.

Thus the wall, an element that is usually identified as something heavy and massive, would visually become a new image, a mural of light water bubbles of different shades of blue, also in tune with the blue color of the city and the one used in the metal fences that protect the rolling roads leading into Santa Cruz de Tenerife.