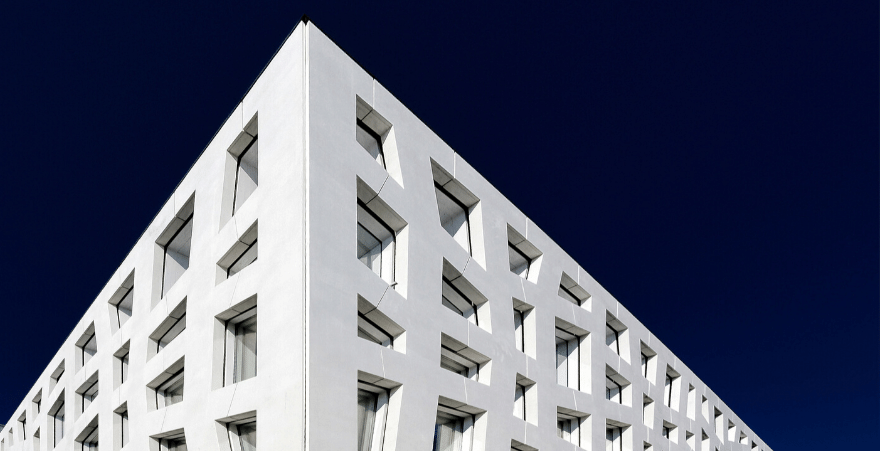 08 May

8 Qualities that prefabricated facades bring to a project

Concrete is a material that has been used in the construction sector for more than seventy years. Its current benefits and qualities continue to position it as a modern and versatile material that stands out in prefabricated facades and structures.

The innovation and quality control of concrete components have endowed it with unique qualities within modern architecture.

All the improvements achieved through dosing, mixing, placing and finishing techniques have provided concrete with reliable characteristics and benefits, thus allowing its resistance and quality to be unquestionable.

Durability and aesthetics have been new qualities added to this evolution.
FACADES THAT DRIVEN CONCRETE INNOVATION
Le Corbusier, Cropius or Aalto, all of them propellant architects belonging to Modernist movement taking place in the 50s, used precast concrete in the construction of facades, which allowed them to give their designs more rationalism and expressiveness.
This break in the monotony of the facades led concrete to its industrialization and detonated the boom in the innovation of construction techniques, leading to a great architectural expression of structural patterns.
In this search for freer and more communicative facades, the enormous qualities of concrete were discovered, with aesthetics being its maximum expression, giving rise to new shapes, colors and textures.
THE RISE OF ARCHITECTURAL EXPRESSION OF PREFABRICATED CONCRETE
The architects no longer focused only on the design of an element but on "the whole" of a premise and its facade. Thus, precast concrete provided great potential in design and use, never seen before.
But architectural creativity in precast facades also led to an evolution of concrete towards pieces that are ever larger and, therefore, heavier.
Such an innovation introduced fiberglass or GRC into precast concrete and made it a lighter material, in turn causing savings in logistics and placement.
At the same time, its thickness was also reduced, thus achieving greater workability in the pieces, which facilitated its implementation.
In addition, given the high thermal inertia of its composition, concrete was positioned as a sustainable material for construction that currently contributes to the reduction of emissions as a consequence of the energy savings that occur during its useful life.
QUALITIES IN THE USE OF PREFABRICATED CONCRETE IN FACADES
Precast concrete facades represent an ideal choice for multiple structures and projects such as the following ones: buildings, headquarters or offices, hotels, schools or educational centers, hospitals, clinics or health centers, residential buildings, service or sport facilities, and the like.
Why choose precast concrete panels?
The use of architectural concrete panels in façade enclosures combines a series of advantages and qualities that no other construction solution has managed to meet:
Reduction in the work execution time
Substantial economic saving
For its assembly, it does not need so many personnel due to its easy handling and placement.
More security and coordination during the work.
What qualities do precast concrete panel facades bring to a project?
The creative freedom that concrete can offer to projects and professionals through the use of prefabricated panels in the facades is fundamentally based on the great adaptability of shapes, sizes and textures it can provide, in addition to bringing together the following qualities:
High material strength.
Acoustic insulation.
Fire resistance.
Cleanliness of work, no debris.
Contribution to sustainable development.
Reduced or non-existent maintenance.
Flexibility in design.
Multiple finishes.
What guarantees does a facade built with precast concrete panels offer?
In addition to the aforementioned, when you choose to make the facades with precast concrete panels, all the benefits offered by this material are achieved, namely: high mechanical resistance, behavior against meteorological phenomena such as frost, wind or waterproofing, thermal properties and durability
Mechanical resistance: High resistance to bending, impact traction and erosion. The prefabricated panels are assembled to withstand the stresses to which they will be subjected during their useful life.
Behavior against frost: The use of waterproof concrete or with small drains prevents the formation of areas of aggression or aging that affect the appearance of the building. For this reason, it is important to bet on a compact concrete with aggregates and tested granulometries that give rise to an optimal behavior against frost.
Wind or impermeability: Concrete is a homogeneous material that has allowed solutions to the appearance of moisture and air inlets in any type of structure. The closing between panels is carried out hermetically and safely, avoiding the entry of water or air.
Thermal properties: The internal cladding improves and complements the thermal resistance of architectural concrete facades.
Durability: In this respect, an optimal preparation of the concrete ensures its durability, since it has a direct effect on its wear and tear and also influences the protection against corrosion of the reinforcements.
It should be highlighted that precast concrete is not only used for use outside or inside a structure but is also highly valued for its decorative purposes on balconies, cornices, columns, baseboards, fountains, steps, and so on and so forth.
Are you looking for a simple, fast and resistant construction for your project?
Request further information.